Solfa has produced a new piece for organist Tom Bell, as a contribution to the The Orgelbüchlein Project, curated by William Whitehead.  The Orgelbüchlein Project is a major international composition project to complete J S Bach's Orgelbüchlein (Little Organ Book), and features short works by an international group of composers, each writing in their unique idiom. The new piece is based on 'Gott hat das Evangelium', No. 141 in the original Orgelbüchlein, and like the other pieces commissioned, is roughly two minutes in duration. More information on the project, including scores by some of the composers commissioned, is available here.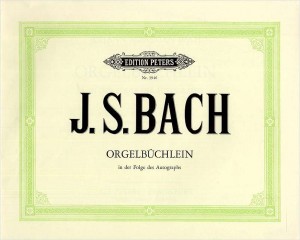 Three Byzantine Hymns, as commissioned by Cantata Dramatica in 2016, have been recorded as an educational resource for choirs interested in performing the works.  Scrolling-score videos and recordings are available on the Cantata Dramatica website here.
'Between Sea and Sky' will receive a performance by 'Untune the Sky', at Exeter College on 2nd Feb, at their 'Music for St Francis' concert.  Details are here.  Untune the Sky are an Oxford-based group of singers.  More information about the group is available via their website and Twitter.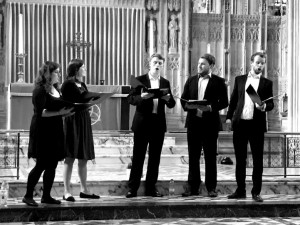 Later this month, conductor James Potter and Cantata Dramatica will record three of Solfa's choral pieces as an educational resource for choirs preparing to learn the St Cuthbert Cantata in 2018. The pieces were written in collaboration with librettist Nicholas Pitts-Tucker, and comprise a setting of St Patrick's Hymn from the St Cuthbert Cantata, along with Hagia Sophia and The Winter Storm, from a previously-commissioned suite of choral pieces based on the life of St Gregory of Nazianzus. Also at the end of November, organist Richard Moore will give the premiere of Solfa's new piece Edwyllm at All Saints Margaret Street.
Solfa's piece 'Silver Tree Fanfare' has been recorded by Illumina Duo on the Convivium label along with other contemporary pieces for trumpet and organ, performed by Ellie Lovegrove and Richard Moore. The CD was launched at a concert at St Lawrence Jewry Church on 4th Oct 2017. The CD 'Dances and Poems' is available to purchase here.
Solfa's new piece for solo organ 'Edwylm', will be premiered by Richard Moore at All Saints Margaret Street on 26th October 2017.  Solfa is also collaborating with librettist Nick Pitts-Tucker on a cantata based on the life of St Cuthbert, which will be performed in 2018.
Solfa's piece 'Dystopia', as performed by flautist William Dowdall, features as part of Royal Irish Academy of Music's conference day on 24th March 2017.  The Irish salute to female composers comprises a series of free-admission events, to take place at the RIAM and Smock Alley Theatre 1662. Information below and here.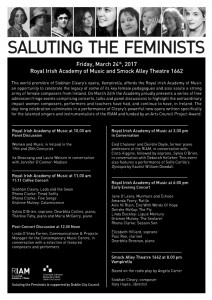 The Silver Tree Fanfare will receive another performance this coming Friday (3th Feb) at a lunchtime concert at St Martin in the Fields, London, by Ellie Lovegrove (trumpet) and Richard Moore (organ).  Illumina have included the piece on their forthcoming recording and continue to perform it as part of their concert repertoire.
Following various performances of  'Silver Tree Fanfare' by Illumina, the duo have included the work on their forthcoming CD, which will be released on the Convivium Records label in 2017.  Solfa participated in a video recording in October 2016 to promote the CD's release.    More about Convivium here.
Solfa is currently working on two projects with UK-based Cantata Dramatica, the most recent of which is a commission for a church cantata to be performed in 2017.  Information about Cantata Dramatica and their work is available here.  Solfa is also editing a previously performed work 'Little River' to be performed at St John's Smith Square, and has been commissioned by organist Richard Moore to write a solo piece for performance in autumn 2017.
This coming Sunday 5th June, hear Illumina in concert at St Marylebone Parish Church, playing music full of passion, including the first performance of a new Illumina commission: Solfa Carlile's Silver Tree Fanfare. Information available here.