Last night was the premiere of 'Six Vignettes' at the Recital Hall, RCM. The musicians were: Will Oinn (Oboe), Victoria Stephenson (Violin) and Lydia Scadding (Piano).
the Contemporary-Music-in-Action project promotes collaboration between composers and performers at an advanced level, and involves a year-long partnership between ensemble/soloist and composer. We have a few meetings, workshops and a flurry of emails to organise both the piece and the rehearsal process.  Essentially, we create a work together. For my piece, there was no improvisational aspect – it was conventionally notated and planned, but the players contributed textural ideas, extended techniques, multiphonics, etc, which helped to enhance the work.
Six-Vignettes is a six-movement work, which I expected to be about 12 minutes in performance. In reality it was about 14'30, due to pauses and slight adjustments in-between movements (pianist uses inside-piano techniques for movements II and V for example). I had worried about the length of the work, but the fact that each movement is concise and varied (1-2 minutes in duration), made the piece easier to digest both aurally and from a performance perspective. I had quite positive feedback afterwards; strangely the favoured movement was the third, moto-perpetuo movement, which I had considered the weakest. I am actually just about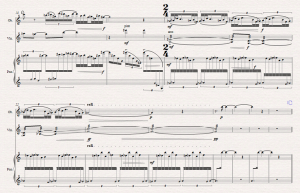 pleased with the first and last movements, mainly because of the rhythmic drive which is essential to both. That said, the first movement did create some ensemble issues due to a rhythmic subtraction principle I developed, but with some rehearsal the players did amazingly. I will put one or two of the movements up on soundcloud or on here when I get the recording back.