A new choral piece will be workshopped and performed by 'Ex Ore Equi' at the Daniel Corkery Summer School in Inchigeelagh, Cork. The theme of the concert is Irish soldiers in World War I, and the text for the work comes from Francis Ledwidge's poem 'Ireland'. Ledwidge was an Irish poet who served during the Great War and died at the Battle of Passchendaele in 1917.
The piece, 'Inis Ealga' will receive its premiere on 24th July at 8pm in St Finbarre's Church, Inchigeelagh. More information on the concert and summer school is available here.
Ex Ore Equi, a UK-based choir, are led by Tom Shorter of Shorter House . The piece will subsequently be published in Shorter House's catalogue of new choral works.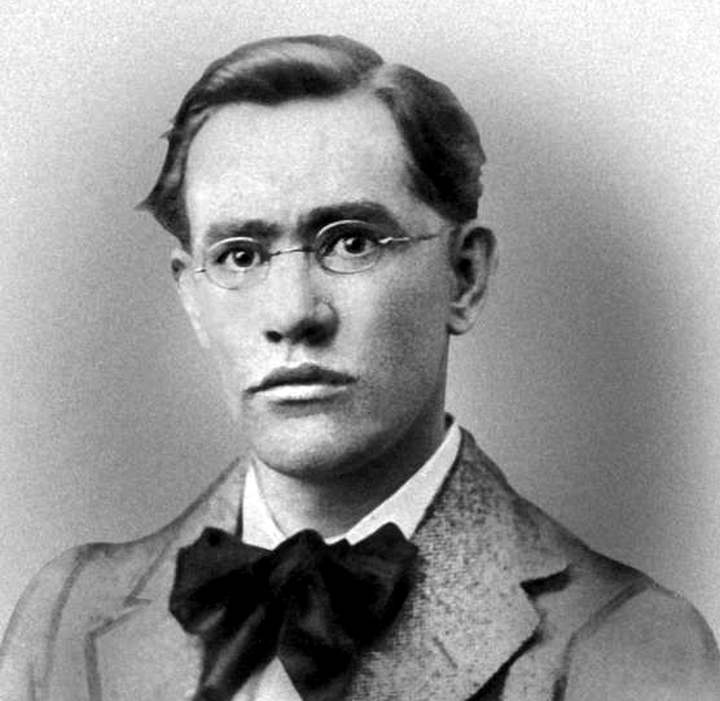 The Life of Cuthbert, a cantata based on St Cuthbert, was performed at the Durham Vocal Festival on Friday 8th February. The large-scale work, commissioned by Cantata Dramatica and written in collaboration with librettist Nick Pitts-Tucker, was completed in 2018 and received its world premiere at the festival. It was performed by the Durham University Chamber choir with soloists from around the UK and was conducted by James Burton, choral director of the Boston Symphony Orchestra. The concert took place at Durham Cathedral. A shorter version of the work was performed earlier in the week for primary-school aged children as an introduction to classical music.
Solfa's previously-commissioned work, Three Byzantine Hymns, is now published and available for hire from Cantata Dramatica.
Solfa has produced a new piece for organist Tom Bell, as a contribution to the The Orgelbüchlein Project, curated by William Whitehead.  The Orgelbüchlein Project is a major international composition project to complete J S Bach's Orgelbüchlein (Little Organ Book), and features short works by an international group of composers, each writing in their unique idiom. The new piece is based on 'Gott hat das Evangelium', No. 141 in the original Orgelbüchlein, and like the other pieces commissioned, is roughly two minutes in duration. More information on the project, including scores by some of the composers commissioned, is available here.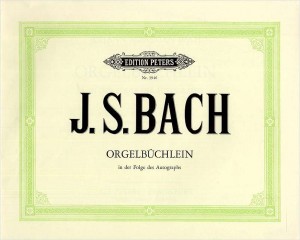 Three Byzantine Hymns, as commissioned by Cantata Dramatica in 2016, have been recorded as an educational resource for choirs interested in performing the works.  Scrolling-score videos and recordings are available on the Cantata Dramatica website here.
'Between Sea and Sky' will receive a performance by 'Untune the Sky', at Exeter College on 2nd Feb, at their 'Music for St Francis' concert.  Details are here.  Untune the Sky are an Oxford-based group of singers.  More information about the group is available via their website and Twitter.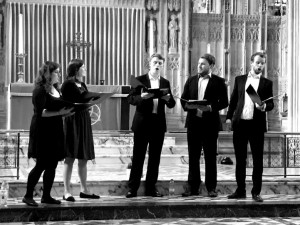 Solfa's piece 'Dystopia', as performed by flautist William Dowdall, features as part of Royal Irish Academy of Music's conference day on 24th March 2017.  The Irish salute to female composers comprises a series of free-admission events, to take place at the RIAM and Smock Alley Theatre 1662. Information below and here.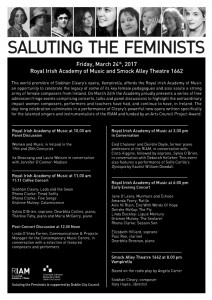 Solfa is currently working on two projects with UK-based Cantata Dramatica, the most recent of which is a commission for a church cantata to be performed in 2017.  Information about Cantata Dramatica and their work is available here.  Solfa is also editing a previously performed work 'Little River' to be performed at St John's Smith Square, and has been commissioned by organist Richard Moore to write a solo piece for performance in autumn 2017.
I recently finished a piece by duo Illumina for trumpet and organ.  In preparation for composing this, I studied several pieces in the canonic organ repertoire by Duruflé, Stanford, Messiaen and others.  I was somewhat disheartened, particularly by the beauty and complexity of Duruflé's compositions, but later learned from Simon Johnson (whose recital I attended at Merton College, Oxford) that Duruflé was a perfectionist who kept very few of his works.  I found this oddly reassuring, given that Duruflé is a particularly tough act to follow, or precede, in a concert setting…
Aside from availing of  Richard Moore's clear and detailed advice on the manuals available and the registration on the organ which would premiere the work, I visited friends in Amesbury in Wiltshire, one of whom is a church organist.  There I was given brief lessons in playing the organ.  At first, simply manoeuvring pedals and manuals in tandem during a read-through of 'Walking in the Air' was enough to stress me out and provide comedy for all.  After two days, I was smugly sailing though Flor Peeters'  Aria.  Though not a technically demanding piece, I felt I'd achieved something simply by means of limb-eye coordination…
After reading numerous online articles about composing for organ, I decided that I would leave the registration up to the organist.  One particular article stated: 'Composers, don't bother specifying the registration, as you will be ignored'. Perhaps not always the case, but I wanted to give the organist the freedom to choose from a palette of sounds based on simple suggestions of timbre.  The score was annotated here and there with brief instructions as to how certain sections should relate.  Twee adjectives such as 'sparkly' and 'ghostly' made their way into the first draft.  Richard sent me some suggestions of registration to approve via email, but I was happy for him to make his own decisions about what sounds worked best in rehearsal, as I wouldn't hear the piece until the initial performance.
Despite all my studying of organ playing and writing, I had written enough for the trumpet to feel confident that my writing for it was idiomatic.  Then it was Ellie who contacted me suggesting that the relentless passages of virtuosic trumpet writing in my score needed a few breaks here and there, for reasons of endurance (this piece would be the first in a 45 minute concert of challenging pieces)!  Although there were moments to breathe, there were scarcely a few bars' rest to be found for the trumpet.  I reworked the piece accordingly, maintaining its development but keeping in the 'fireworks'.  The resulting effect was conducive to the effect of the piece.   The texture, rather than being predominantly dense, was now broken up into antiphonal passages, larger solo sections and an eventual musical homogeneity at the conclusion, better pronounced by the thinning out of the part.  The brief I was given when commissioned to write this piece was, 'Lots of fizz and bang, please.'  I hope that the musicians, and audience, find some of each in this work.
Things have been quiet for the past couple of months as I've been somewhat preoccupied with doctoral study.  I'm looking forward to getting back into writing after a break.  I've recently been commissioned to compose four new pieces – three as part of a larger choral commission (more news to come) and one, a short piece for duo Illumina, based in London.  The duo piece is for trumpet and organ.  Having only written once previously for organ (and not in great detail), I will have to undertake some research into writing for the instrument.  I"ve not been very active in the Twittersphere lately, apart from some occasional re-tweets, but I will do my best to be disciplined and make note of exciting events to come.
The piece 'Dear, Dirty Dublin', for 'Cello and percussion, composed and first performed in 2010 will receive another performance by the G Project on Thursday, March 5th at a non-classical event at the Cafe Royal, London.  Details of the event here.
Also on March 7th, Solfa's 'Two Joyce Songs' for SATB choir will be premiered at the Forte Festival in Cork, Ireland, along with the third performance of 'Is Mairg an Te gan Cheol' (2012).
I'm currently completing 'The Exile', which I have been writing in collaboration with librettist Gillian Pencavel.  The piece is a chamber opera for four singers and Pierrot ensemble with percussion.
I was fortunate to take part in a workshop with the BBC singers at Maida Vale studios on May 2nd, where they workshopped a new two movement piece for choir I'd written, entitled 'O Sun' based on some writing by Irish poet Joseph Mary Plunkett.
I'm also working on a musical play  entitled 'A Brief Engagement', which is a fantasy inspired by the works of Jane Austen, with libretto by my father, Orison Carlile.